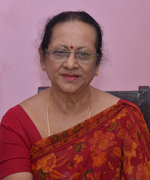 It gives me great pleasure to welcome all Research scholars, students Readers and visitors to Dr. Indira Goswami SEARRC website. I am confident that the website information of Dr. Indira Goswami and South East Asia Ramayana Research Centre contained through the pages will prove extremely useful and beneficial for all concerned. Late Dr. Indira Goswami (Mamoni Roysom Goswami) was deeply interested and engrossed herself in the study and research of the Epic Ramayana. During her study and research she had come to know that the Epic Ramayana has all prevailing influence not only the people of India but also the South East Asia.
Needless to say in North Eastern states of Republic specially in Assam, the influence of Ramayana on the people is enormous in there connection she refered to the work done by Madhab Kandali, the first person to study and write about Ramayana. But having found in the study and research of Ramayana has been declining in the North Eastern states specially in Assam. She created a centre under the name and style as South East Asia Ramayana Research Centre (S.E.A.R.R.C) with office at North Sarania- Gandhibasti Umakanta Enclave Guwahati Assam. She had donated all her immovable properties and adequate fund for the centre.
The main object of the centre is to create interest on Ramayana and spread its knowledge not only in our state but also to the people of other countries with an aim that the state of Assam is pioneer in spreading knowledge on Ramayana. The centre is well equipped with all the necessary infrastructure like library, Reading hall auditorium Museum and Research scholar accommodation. The prime object of the centre is comparative studies on the Ramayana the appeal of which has transcended the geographical and cultural boundaries of India. The Epic Ramayana has acted as a message of peace hope and harmony among people cutting across language and religion.
The centre has already published books on Ramayana Annual Journal, Translating books from different language to English and Assamese – organised seminars, workshops and discourses cultural and academic programme and competition like story telling drama fine arts associate with Ramayana and Dr. Indira Goswami.
The centre is trying for affiliation of South East Asia Ramayana Research Centre for awarding Doctorate (Ph.D- D.Lit) degrees under a University. South East Asia Ramayana Research Centre looking forward to explore more dimension in all aspect contribution in terms of Research infrastructure development as well as to our society and aim to be one of the largest Research Centre of Ramayana founded by Dr. Indira Goswami.
Sabita Sarma
Executive President
South-East Asia Ramayana Research Centre